Bolivia Kid's Heart Repair
For some years now, Dharma Trading Co. has been funding open-heart surgeries for children in Bolivia. We do this in partnership with Solidarity Bridge. The children are from very poor indigenous families who do not have any hope of paying for these costly operations. Many of the children would not survive without the corrective surgery and many others could not lead normal lives.
Milestone reached, thanks for helping make this possible.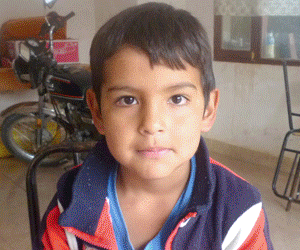 Dharma Trading Social Projects reached an important milestone in June 2015 when our "Children's Heart Repair" program financed the 100th child's open heart surgery, funded all or in part by Dharma. Our work with Bolivian sewing coops led us in 2005 to begin funding open heart surgeries for indigenous Bolivian children with life threatening heart problems and where extreme poverty offered them no hope. We partner with Solidarity Bridge, an organization dedicated to serving the Bolivian poor, and with several Bolivian surgeons willing to donate their skills. In this way over 100 little lives were initially saved.
Now, at the end of 2020, the list of children we have been able to help has nearly reached 300! And this number, as well as the success rate, keeps increasing every year.
It is through the efforts of the Dharma staff and the support of our customers that we have the good fortune to be able to help these children.
October, 2009
During a 10 trip to Bolivia, I visited all of the projects we support. Regarding the Children's Heart Repair project, I had a chance to meet some of the children whose open heart surgeries we have made possible. Meeting them and their parents was very emotional and very real. If one has children, or even if not, it's possible to understand the deep gratitude they feel for the saving of their child's life. Unfortunately, the cost of open heart surgery is rising, even in Bolivia, and we will not be able to underwrite as many this year as in past years.
Miracles - how it works.
In a rural mountain area of Bolivia there's a 3 year old indian boy with a heart problem. He's weak, not developing properly and his future is in doubt. The family income is less than $100/month - barely enough for the room they rent and food. His mother says: "The truth is that I do not know what to do because I do not have the money to pay for the costs of the operation required by my small son. I am desperate and ask God every day to have mercy on my little son and to be able to receive the help to save his life. I do not resign myself to lose him and if something happens to him I do not know what I would do."
Thousands of miles away, in California, a man prays and receives that it is correct for him to pay for operations for children far away in Bolivia, and so the 3 year old gets his operation.
Her prayers have been answered, a man she never met in a place she never heard of, helps her son - a miracle has occurred.