Keiko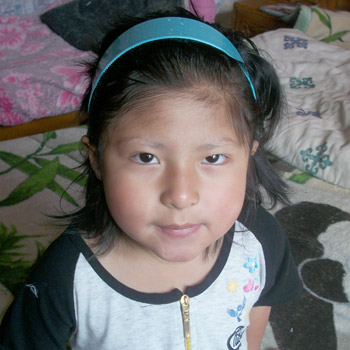 When Keiko was 9 months old, doctors informed her parents that she had a congenital heart defect called patent ductus arteriosus. This is a condition in which children are born with an open heart duct. The opening often closes on its own after birth. In rare instances, however, the duct fails to close and can lead to serious health issues. By age five, Keiko was demonstrating worsening symptoms including fatigue, alternating colds and fevers, shortness of breath, vomiting, headaches, and chest pain. Keiko's parents, William and Roxana, took her to the Viedma public hospital in Cochabamba, where a cardiologist determined she needed a procedure to close the open duct using an external device.
William and Roxana became overwhelmed with the mounting hospital and diagnostic fees associated with Keiko's condition. William works as a karate instructor, teaching classes from their home. Roxana finds work as a seamstress. Their incomes fluctuate depending on their ability to find work and they don't have insurance to support their family of four in times of crisis. Together they occupy a few rooms in the house of their paternal grandmother. The family put all of their resources into finding help for Keiko and were unsure how they would be able to cover the cost of surgery. Fortunately, doctors referred them to the Puente de Solidaridad Children's Heart program for help. During an interview with social workers, William said:
We are doing everything we can, but on our own, we will be unable to pay the total cost of the procedure. We ask you to please help us.
On August 24th, Dr. Gabriel Echazú at the Belga Hospital in Cochabamba was able to successfully close the duct in Keiko's heart and she was released from the hospital the next day. This life-saving procedure would not have been possible without support from Dharma Social Projects. Keiko's parents can breathe a sigh of relief after five years spent worrying about their daughter's health and well-being. Keiko will soon be able to return to her kindergarten class to share the wonderful story of her new, healthy heart.