Alexander Solis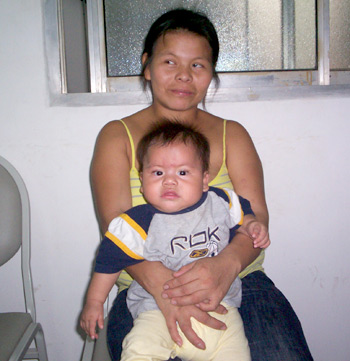 When Alexander was born, Juan and Mericia were well-experienced parents with four healthy children at home between the ages of 10 and 2. But it soon became clear that something was different with Alexander. At just six months of age, his mother rushed him to the nearest hospital located in Cobija in the Bolivian state of Pando. Alexander was hospitalized for 10 days with a diagnosis of bronchitis. Less than two months later he was desperately sick again, leading local doctors to suspect heart problems. The provincial hospital was unequipped to attempt further diagnosis, so the baby was referred to the public children's hospital in the far-off city of Santa Cruz. Mericia left her four oldest children with their father, a day laborer, and boarded a bus to Santa Cruz. With no family or friends in the city to take her in, Mericia slept on the floor next to the baby's hospital crib, and relied on other mothers in the ward to bring an extra piece of bread or portion of soup for her to eat.
Pediatric cardiologist Dr. Virna Severiche of the Hospital del Niño Dr. Mario Ortiz Suarez diagnosed Alexander with a complex cardiomyopathy involving an anomalous pulmonary venous connection and an extremely rare condition known as cor triatriatum dextrum, in which the right heart atrium is subdivided by a thin membrane, resulting in three atrial chambers. Hence, the condition is also known as triatrial heart.
Alexander spent six weeks in intensive inpatient treatment before he was strong enough for surgery. He was then transferred from Santa Cruz to El Belga Clinic in Cochabamba, possibly the only hospital in the country equipped and staffed at the time for such delicate cases. Bolivia's premier pediatric cardiac surgeon and long-time Solidarity Bridge partner, Dr. Carlos Brockman, performed the surgery. The operation was successful, and Alexander was discharged on October 30th, 2014.
The family was referred to Fundación Puente de Solidaridad (PuenteSol) and Roberto was quickly approved for support through the Solidarity Bridge Heart Program. Doctors needed three months to stabilize him for surgery, which he finally received on September 16th at Clínica Belga in Cochabamba. Roberto's heart abnormalities were severe, but the skilled hands of our surgical partners at Clínica Belga have given him the best chance available.
As Mericia exclaimed to the social workers at Solidarity Bridge's Santa Cruz office, Puente de Solidaridad:
May God bless what you are doing for the children of Bolivia, because without your support, our children would die.
Special blessings go out to Isaac and Renee Goff of Dharma Trading Co., who made this surgery possible.