Kelly Jhoset Siñani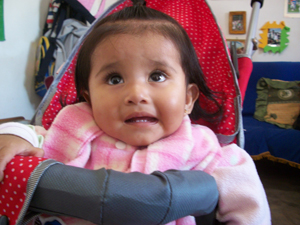 Kelly Siñani lives in an informal settlement outside the town of Cercado, located in the province of Cochabamba, Bolivia. Her father, Handel, works in construction, with an unpredictable income depending on the work he can find in this impoverished region. The family, including Kelly's mother, Carmen, and her nine-year-old brother, Carlos Daniel, rents a one-room home, with a bathroom shared by several other tenants on the property.
Kelly was born with an acyanotic congenital heart defect, which involves shunting of blood from the left to the right heart ventricles. Handel and Carmen took Kelly to the Manuel Ascencio Villarroel Pediatric Hospital in Cochabamba, but the public institution was ill-equipped to handle her case, so the family was referred to the Belga Clinic. A series of Doppler studies there revealed a large intraventricular communication and significant pulmonary hypertension.
The family understood that Kelly needed surgery to survive, but they delayed pursuing it because they had no way to pay for it. The family lives day to day, with no savings and little capacity to repay a loan. Kelly's condition was declining, until she was eventually admitted to the hospital. Knowing time was running out, the family began to search for assistance.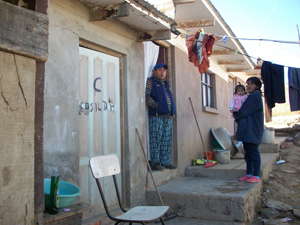 Handel described their situation to the social worker at PuenteSol, Solidarity Bridge's sister organization in Cochabamba:
We are very sad and worried about our little daughter. I don't know when she can get her surgery. The problem is that we have no money and the cost of the surgery is high. We can't even find anyone to loan us the money. That is why we took her to the public hospital. I work when I can get it, but there are days I look for jobs but can't find anything. We ask you to please help us. We do not want our daughter to die.
Kelly received her surgery at the Belga Clinic on September 24th, 2012. The family is very grateful for the support that made it possible. This surgery was made possible through the financial support of Dharma Trading Co.