Santos Colque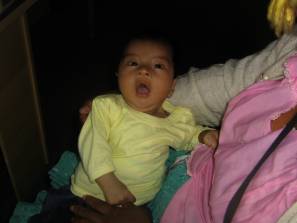 This young 3 month old patient was born with a congenital heart defect. Since born he has been convulsing and has pulmonary hypertension. He was in urgent need of an operation.
The family has 4 children and lives in the countryside near the far city of Tarija. The mother had to make the long journey, leaving the other children in the father's care. He works in agriculture as a laborer. They have a vegetable garden and some sheep that they use for food and exchange. Their community was able to raise the money for the bus, and the lodging and food while in Cochabamba.
Before the operation the mother said:  "I took courage to come here not knowing anyone because they told me of a "doctorita" who could help me.  If it were not for this, we would have stayed there lamenting our luck.  Since I am here, I ask you to help my little son to not die." Santos was operated successfully on March 23rd and should be well after a ductus repair. This surgery was made possible through the financial support of Dharma Trading Co.