Daniel Jurado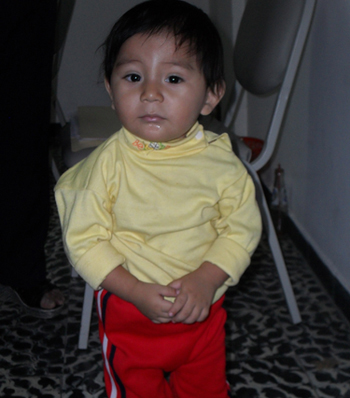 Daniel, a one year old, was born in Trinidad, the capital of the state of Beni. This is the Bolivian tropics and is a poor and distant part of Bolivia. His parents are young: His father Ifrain is 24 and is a worker at the pasta factory. He earns 800 bolivianos a month or $110. Lix, a 17 year old has not been able to work because of needing to care for Daniel. Daniel and Lix pay 200 bolivianos for their rented room and have little left after a paying for the medications for Daniel. They often did not have enough to eat.
In tears, Daniel's grandmother tells our social worker: "Since Daniel was born over a year ago, he has had to be hospitalized in Trinidad because of his condition. Fortunately, the SUMI (government insurance for children up to 5 years old) covered this cost. He even had his birthday in the hospital. …Please help us. We are poor…"
Daniel was operated by the team of Dr. Arturo Barrientos at the Incor hospital in Santa Cruz, Bolivia. The operation was a success and he is slowly recovering at the house of his grandmother and will return to Trinidad when Dr. Barrientos determines he is recovered enough. This surgery was made possible through the financial support of Dharma Trading Co.