Iker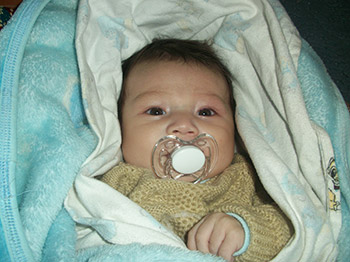 Iker is a beautiful, three-month-old, baby boy. His mother noted that soon after Iker was brought home from the hospital he had trouble breathing and turned "purple." He could not take deep breaths and developed frequent respiratory infections. Iker's mother was very concerned. In one of the public hospitals in Cochabamba, the doctor told her she should take Iker to see a heart specialist. At the Belga Hospital, Dr. Gabriel Echazú explained that Iker was born with multiple heart problems that required expert medical attention.
After many tests, Iker was diagnosed with total anomalous pulmonary venous connection (TAPVC), which is a rare congenital heart condition requiring open heart surgery. He was also diagnosed with atrial septal defect and patent ductus arteriosus (PDA), which, if untreated, may lead to congestive heart failure.
With this daunting diagnosis, Iker's mother was very worried about her son's health. She was also concerned because she could not cover the cost of the surgeries and treatment that Iker needed. Her income is variable, unstable, and barely covers the family's basic needs. She sells clothing in the streets of Cochabamba and takes Iker with her around the city. Iker, his older brother, and their mother live in two bedrooms that they share with their grandmother. They share a kitchen and bathroom with another family who also rent rooms in that same house. Iker's father helps them economically with what he is able, but they still did not have enough money to cover Iker's treatment.
At the Belga Hospital, Dr. Erika Perez told them about Puente de Solidaridad and their Children's Heart Program. Iker's mom approached Puente for help: "I do not have money to cover Iker's surgery and that is why I am searching for help. I ask you to give me a hand. I can't see my son like this any longer. It's a desperate situation."
With the support of Puente de Solidaridad and Dharma Social Projects, Iker had two surgeries in June to treat his TAPVC and the PDA. Iker was hospitalized for over a month due to complications, but is now recuperating at home. Iker is a strong boy who will need further support in the months and years to come in order to have a healthy life.