Jazmín Torrez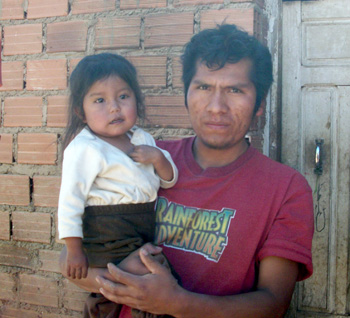 Two-year-old Jazmín lives with her older brother Jhoan and her young parents Abdon and Clotilde in her grandparents home in Cochabamba, Bolivia. Abdon free-lances in autobody work, earning barely enough money to feed his family and cover their most basic needs. With no steady monthly income, the couple is unable to save up for the many things they would like to do, including to finally get legally married and celebrate a wedding. Since Jazmín's birth, their finances have been especially strained by the baby's frequent health crises and hospitalizations.
Jazmín was born with tricuspid atresia, with multiple accompanying heart defects. Her condition will require several surgies. The first and most urgent is a Glen surgery, to be followed soon after by the Fontan procedure. These procedures serve to redirect blood flow to the lungs to compensate for the inability of the heart ventricles to pump blood effectively.
Jazmín suffered frequent life-threatening crises that required hospitalization so she could be medicated and put on oxygen. Her time was running out, if she did not get help. In mid-2015, the family was finally referred to the Heart Program at Puente de Solidaridad, Solidarity Bridge's local office in Cochabamba. As Clotilde said to the PS social worker:
We have dedicated ourselves to finding help. We have knocked on many doors, but when we told them the cost of the surgery, everyone told us it was impossible to help us. This office is the only one that has given us hope. We are very grateful; we ask God to bless you forever.
Dr. Carlos Brockman performed Jazmín's first surgery on July 29, 2015. By August 4, she was strong enough to go home. The Glen procedure that was performed is expected to greatly improve Jazmín's immediate health. When she is strong enough for the next surgery, she will return to Belga hospital, which will take over her care from now on. In cases such as Jazmín's where we know the child will continue to need intense intervention, Solidarity Bridge is especially grateful to its most reliable, consistent, and generous donors, Isaac and Renee Goff, for their unwavering support.