Sandra Rojas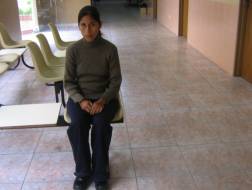 Sandra is a 17 year old who had a biological valve replacement when she was 12. It is not unusual for the biological valves to only last 5 years and thus the person require a second operation. A group of nuns were able to help with the first operation, but were unable to with a second. She urgently required a mitral valve replacement as well as repair of her tricuspid valve.
Sandra is the oldest child of 6 siblings. Her father is a 50 year old agricultural worker called Primitivo Rojas and mother is Martha Rojas and is 43 years old. Not long ago, Sandra had to quit school because of her fatigue and needing to remain in bed. Her parents are quite poor and cannot even meet the basic needs of their family, let alone an operation of this magnitude.
Before the operation, Sandra's mother Martha said: "I am very worried for my young daughter. Five years ago, we went through the same ordeal. Thanks be to God that the "madrecitas" (nuns) were able to help us then. But they cannot now and that is why I am coming to you with the hope you can help in order for mi Sandra to get better and have a long life. It is the only thing we ask of our God."
Sandra was successfully operated on May 12th. This surgery was made possible through the financial support of Dharma Trading Co.