Yeyson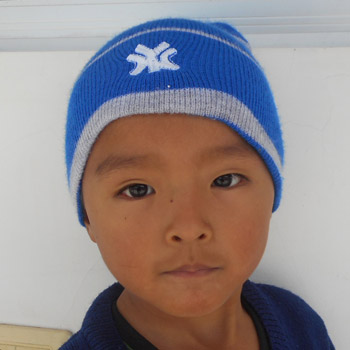 Miguelina was six months pregnant with Yeyson, when the baby's father left them. Yeyson spent two weeks in an incubator and doctors told Miguelina that he suffered from a congenital heart problem. Yeyson showed signs of pulmonary stenosis, a condition characterized by obstruction to blood flow from the right ventricle to the pulmonary artery. When the pulmonary valve is severely obstructed, especially in newborns with critical degrees of pulmonary stenosis, the right ventricle cannot eject sufficient blood flow to the pulmonary artery to maintain normal oxygen levels.
Miguelina didn't know what to do. It was very difficult to find work, as a single mother, in her home town of Sucre. Eventually she was fortunate to secure room and board for herself and her son in the home of a family where she works as a domestic worker.
With this small monthly salary and some support from her mother, Miguelina was able to cover the frequent doctor visits for Yeyson. When doctors informed her that Yeyson would need surgery, she reached out to the Puente de Solidaridad Children's Heart program for help. Finally, on August 6th, five-year-old Yeyson was able to undergo a valvuloplasty procedure at the Incor Hospital in Santa Cruz.
Miguelina was overjoyed and shared: "I thank God that I learned about the Puente de Solidaridad Foundation so that they could help me. It is a joy to know that my son will be healthy and grow like a normal child. I am very grateful to all." We are also grateful to Dharma Social Projects for their continued support of this program which brings new life to so many Bolivian children and families.