Ashley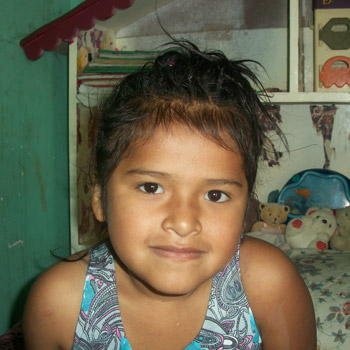 Ashley is the second of Elvia's three children. She lives with her mother, stepfather (Don Jorge) and two half-siblings. The family of five shares one bedroom in their grandmother's home. Don Jorge works as a taxi driver, earning less than $250 month to cover the family expenses.
Her parents became concerned when they witnessed Ashley experiencing ongoing discomfort, tiredness on exertion, shortness of breath, and poor circulation. She was sedentary and unable to engage in the physical activities of a typical 6-year-old.
Ashley's pediatrician determined the child had a cardiac condition and referred her for a consultation at the Universidad del Valle Hospital in Cochabamba. There, she was diagnosed with supracristal ventricular septal defect (VSD.) This is the least common type of VSD in the Western Hemisphere, accounting for only 5-7% of such defects in this part of the world. Open-heart surgery would be required to close this opening in Ashley's heart.
Her stepfather, Don Jorge shared:
Ashley is another daughter for me. I love her and want her to heal and be able to have the same activities as other little ones of her age. We are making many efforts and asking for support to help us to operate. God will bless them for saving the life of these children.
On October 29, 2018, Dr. Carlos Brockmann performed the complicated surgery at the ProSalud Hospital in Cochabamba. The surgery required the use of a heart and lung and machine, donated through the Solidarity Bridge Heart Surgery Program. The surgery was made possible through the generosity of: Dharma Social Projects, partner surgeons in Bolivia, Puente de Solidaridad social workers who accompanied the family and community members who supported the family in so many ways. Ashley was released from the hospital one week later. She will require continued follow-up as she recovers and gains new strength. Ashley's parents are grateful to have found solidarity from so many during a difficult time and have new hope for their daughter's future.