Nilma Veizaga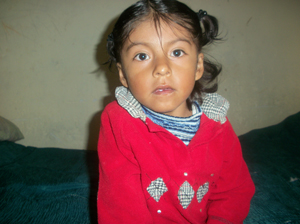 Nilma Veizaga is four years old, but looks more like two. Her failure to thrive is due to the congenital heart defect known as patent ductus arteriosus, which occurs when the direct connection present at birth between the aorta and the pulmonary artery fails to close. That condition then causes important overload of the left heart chambers, and significant pulmonary hypertension. These conditions left Nilma fatigued and listless, and kept her from growing and developing as a normal child.
Since Nilma's diagnosis at one month of age, her life and that of her parents, Benito and Florentina, have been largely characterized by fear. The parents' fear of having another child with such problems led them to decide to have no more children. For fear of Nilma getting sick, they kept her out of pre-school and under the constant eye of her mother at home. Benito and Florentina, who live in a rural area of Carcaje in the Bolivian province of Cochabamba, speak only Quechua, leaving them further isolated and unable to reach out for help. It is only thanks to a chance encounter with an ophthalmological surgeon, Dr. Faye Salvatierra, that the family was finally referred to Fundación Puente de Solidaridad for help.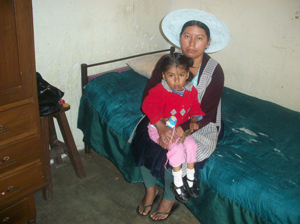 In the interview with PuenteSol staff, Florentina explained the following in her native Quechua:
We are very sad to see how our daughter is not like other little girls. She always seems sad and just sits and watches the children run and play. We asked once how much this operation cost and they told us $10,000 dollars. We will never have that money. My husband is an assistant bricklayer and what he earns is only enough for food to eat and buy the medicines for our little girl…. Thank God it now looks like my little girl is going to get better.
Nilma's treatment was especially complicated, involving two complex surgeries in April and May 2012 that included a mitral valve replacement. These surgeries were made possible through the financial support of Dharma Trading Co. Her initial weak condition has exacerbated her long recovery process, which the PuenteSol staff continues to monitor.