Anahi Soto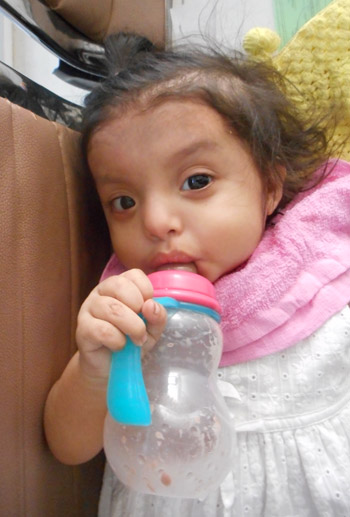 Anahi is the second of three daughters of Francisca and Jorge. The couple separated when Francisca was pregnant with her youngest child, and Jorge took the two oldest to live with him. However, three months later he dropped Anahi off with her mother, saying she was too ill for him to keep.
Anahi, still an infant at the time, would routinely turn blue and struggle to breath. In early 2014, she was hospitalized at the Children's Hospital in Santa Cruz, diagnosed with obstructive lung disease and dehydration, the latter linked to her inability to eat without struggling and losing her breath. Further tests revealed the baby suffered from patent ductus arteriosus or PDA. Francisca could not afford the delicate surgery needed to repair the irregular shunt in her baby's heart, so she took her home to continue to care for her as best she could. Since Francisca's third daughter was born in late 2014, she has been unable to work in order to care for her baby and Anahi, who is now two years old. Anahi's grandfather, Gilberto, a security guard earning roughly $175 dollars a month, pays for food, diapers, formula, and the rent for Francisca's one-room home.
When Franscisca brought Anahi back to the Children's Hospital for a check-up in mid-2015, the hospital was pleased to now offer a solution. Since Anahi's previous hospitalization, the Children's Hospital had opened pediatric heart surgery facilities. Francisca was referred to the office of Puente de Solidaridad, which confirmed that Anahi was eligible for support provided by Isaac and Renee Goff through the Solidarity Bridge children's heart surgery program. Dr. Roberto Pacheco performed the successful surgery on September 7, 2015, and Anahi went home just four days later.
My father and I are grateful for the help you are providing. Without your help, my daughter's surgery would not have been possible. God bless you.
Francisca, during her September 2015 interview with the Puente de Solidaridad social workers.