Juan H.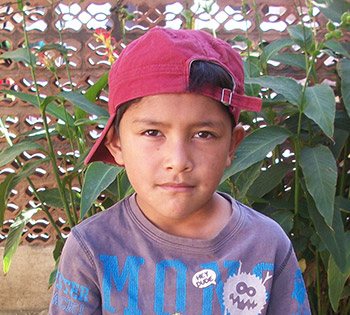 Semido, Mirenia and their two children live in the tiny, rural town of Pasorapa, nearly 7 hours outside of the nearest city of Cochabamba, Bolivia. They are subsistence farmers, living off their crops of wheat, potatoes, and vegetables. They draw water from the local well, and in the evening the children complete their homework by the candlelight that gives light to their small adobe home.
Juan is the older of the two siblings. It had long been obvious that he was different from the other children in town. He wanted to be able to play and help his parents on the farm, but would become tired easily, struggle to breathe, and have frequent headaches and chest pains.
In spite of the fear that they would be unable to afford medical care, Semido and Mirenia eventually turned to their local hospital for help. They were told Juan had a severe heart condition and would need specialized care in Cochabamba.
Semido took on extra work as a manual laborer and their local parish did all they could to support the family in their time of need. Semido and Mirenia found a glimmer of hope when they learned of the Solidarity Bridge Heart Surgery Program. The program's social workers interviewed the couple and confirmed their very real need for economic and moral support.
During this interview, Mirenia shared:
"We are farmers. My husband is dedicated to planting and harvesting crops to support us. Now he is finding extra work to pay for the medical expenses. Our parish has provided what they could to support his operation, but it isn't enough. We ask for your help so that Juan can get better. Now he can't do anything at school. He wants to play and be like all the other kids. Only God knows how we live."
With the generosity of Isaac and Renee Goff of Dharma Trading Company, partner surgeons at the Belga Hospital helped make this long-needed and especially complex surgery possible. On June 28th, Juan underwent aortic valve replacement surgery. His case was complicated and required additional surgery the following day. Eight-year-old Juan remained in the hospital for nearly three weeks before doctors determined he was strong enough to return home. Semido, Mirenia and local doctors are closely monitoring Juan as he slowly recovers. All of us who have been touched by Juan's story are hopeful he will finally be able to live a full and healthy life.