Denis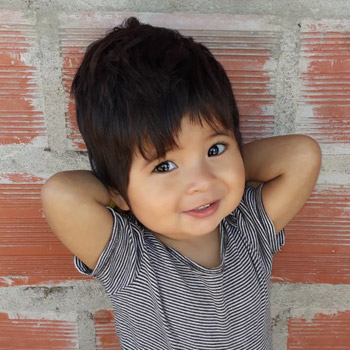 Juan Carlos and Carola and their two boys live on a farm three hours outside of the city of Santa Cruz, Bolivia. When Carola took baby Denis to the local health center for a check-up, the pediatrician detected a murmur in the boy's heart. They didn't have a specialist in their rural community who could perform the proper tests or procedures to treat Denis's condition.
The family traveled to Santa Cruz and met pediatric cardiology specialist, Dr. Paula Nomura at the public children's hospital who evaluated Denis and diagnosed him with pulmonary valvular stenosis. Pulmonary stenosis is a condition in which the amount of blood going to the lungs is limited because of narrowing of the pulmonary artery. The effects of this narrowing are that the heart muscle has to work harder to pump the blood to the lungs. Denis's condition was severe enough to warrant a valvuloplasty procedure to inflate the valve and increase blood flow.
It was clear that Juan Carlos and Carola were facing economic hardship. Carola shared:
I was informed that Denis needed surgery. We are a poor family and so we looked for help. The hospital workers mentioned the work of the Puente de Solidaridad Foundation. We ask for your collaboration to help make this surgery possible for my child. God bless you.
On August 30th, this little one-year-old was able to undergo the valvuloplasty procedure at the Incor Hospital in Santa Cruz. Juan Carlos, Carola, and their family expressed their deepest gratitude for the generosity of Dharma Social Projects, for making this cardiac procedure possible for their baby boy. Denis was released from the hospital the following day. The prognosis for his condition is very good. The likelihood of survival without complications is nearly 100%. In the long term, Denis should be able to lead a normal life and eventually be able to help his parents in carrying out all the hard work at home on the farm.