Leonela Barrientos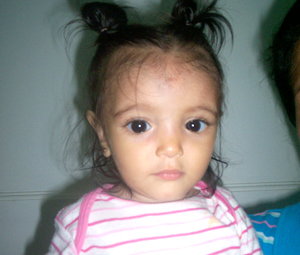 The case of tiny Leonela Barrientos, just 10 months old, demonstrates some of the paradoxes of life in a country as poor as Bolivia.
Leonela is the second daughter of Ricardo Barrientos and María Elby Gareca. The family lives in the town of Camirí, located on the shores of the Parapeti river in the remote Cordillera province in southern Bolivian. The photo of Leonela with her mom might give the impression that her mother is a teenager, but she is actually a 32-year-old doctor, employed at the Hospital San Juan Bautista in the neighboring province of Cuevo. Her husband, Ricardo, is currently unemployed, and assumes primary responsibility for the day-to-day care of Leonela and her four-year-old sister, Barbara.
When Leonela was only four days old, her mother noticed accelerated breathing and took her for evaluation at the Camirí Hospital. A chest x-ray revealed an enlarged heart. She was referred to the nearest pediatric cardiology facilities, located in the city of Santa Cruz, some 200 miles over rough terrain to the north. In Santa Cruz, Dr. Paula Nomura diagnosed congenital cardiomyopathy, specifically a ventricular septal defect (left-to-right shunt), and began medical treatment to improve Leonela's quality of life. Her parents spent the following months making the arduous trip back and forth from Santa Cruz to monitor and manage her condition, which was further complicated by bronchiolitis (asthma). Leonela's failure to put on sufficient weight, despite abundant nursing, was one of the indications that the attempted course of treatment was insufficient. She would need corrective surgery, which was beyond the family's means.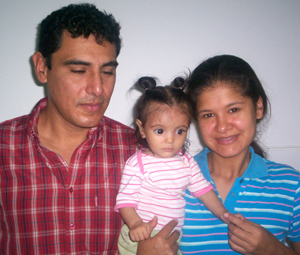 This case illustrates that even for an educated and employed parent – a doctor no less – treatment and surgery for something as complex as a congenital heart defect, may be out of reach. In this case, treatment was only available at a very distant location. That forced Leonela's parents to invest large sums just to access it. Once in Santa Cruz, the family was forced to pay big-city prices for everything, drawing on the income of a rural doctor. Of María Elby's monthly salary of $4000 bolivianos (about $580 dollars), they spent an estimated $2,500 per month on meals, transportation and medical studies and treatment.
Thanks to the support they found through Solidarity Bridge, Leonela has now received corrective surgery performed by the very capable hands of Dr. Arturo Barrientos at the Incor Clinic in Santa Cruz. This surgery was made possible through the financial support of Dharma Trading Co. Leonela is fortunate to have very capable eyes to keep a close eye on her as she continues to recover, with the hope that she will now begin to thrive and develop, and will soon be running after her big sister.