Luis Arteaga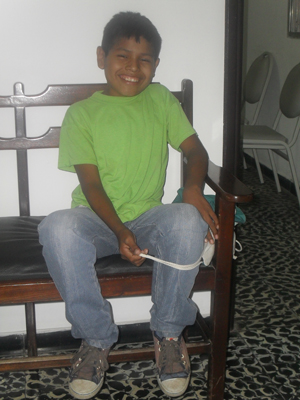 Luis Arteaga is a 12-year-old boy who lives with his parents, Juan Carlos Arteaga and Matilde Tapiosi and his five sisters in the town of Montero, Bolivia. The family lives on the approximately 100 Bolivianos (about $13 USD) Juan Carlos earns as a field hand and occasional bricklayer. Because of their low income, Juan Carlos and Matilde have always relied on themselves to manage all the family's healthcare needs. For that reason, Luis was born at home, with only his father on hand to receive him. And for that reason, when Luis developed a sore throat when he was nine years old, his parents did not take him for testing or treatment. His birth was fortunately uncomplicated, but the lack of antibiotics at age nine led Luis to contract rheumatic fever.
The gravity of Luis' condition was first revealed on the school playground when he was eleven. He passed out amidst a bit of rough play with another boy, and school officials took him to a doctor, who diagnosed the problem as a cardiac condition. After that, Luis began to suffer chronic fatigue. He was no longer able to play or participate in any physical activity. A year of medical treatment brought no improvement, so the Montero doctors referred him to a specialist, Dr. Paula Nomura in Santa Cruz, who diagnosed mitral valve deficiency with accompanying pulmonary deficiency. The family then began to search for ways to purchase the needed valve and raise the money for his surgery. The biological valve was purchased through the support of Fr. Mateo Parroco, and in their search for help to cover the high surgical costs they were referred to Fundación Puente de Solidaridad.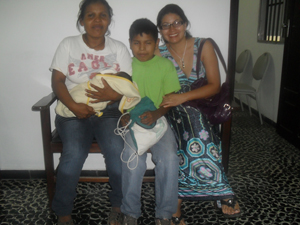 Despite his fatigue evident even in the effort to speak, Luis shared his story in his own words with the PuenteSol social worker:
My head hurts a lot, my eyes, I get very tired, I get dizzy, my vision gets blurry. I can't be like a normal kid. I'm afraid of dying. That's why I prefer to be still and not play, because if I get ill, my parents won't be able to cure me. And I want to live.
Luis underwent mitral valve replacement surgery on June 11 at the Clínica Incor. Dr. Paula Nomura was joined by Solidarity Bridge's partner surgeon, Dr. Arturo Barrientos, for the procedure. This surgery was made possible through the financial support of Dharma Trading Co. His parents are very relieved to see the strong evolution of their only son's condition and to welcome him home to join his sisters, including a newborn girl yet to be named.