Ely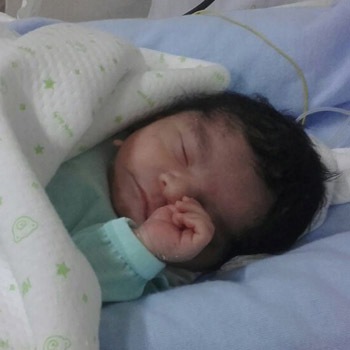 Angelica and Ely's fourth son was born on May 1st, 2017, at their local municipal hospital outside of Santa Cruz, Bolivia. They immediately named him after his father. Shortly after the baby's birth, while Angelica was still recovering, Ely Sr. was notified that the baby was struggling to breathe and was being transferred to Hospital Japonés, one of the highest-level public hospitals in the state. Specialists there diagnosed Ely with pulmonary atresia, a cyanotic heart defect often associated with so-called blue baby syndrome. In order to survive, the baby would need an emergency procedure called a Blalock Taussig shunt to redirect blood flow to his lungs, allowing him to breath.
The parents felt lost and unprepared for the news. As Ely Sr. explained to the social worker: When the doctors told me he needed emergency surgery, I felt the world crash down on top of me. I'm the sole breadwinner for the family, and I earn the minimum wage.
Ely's income of 1,805 bolivianos or roughly U$262 per month, working at a local chicken processing plant, leaves little left at the end of the month. Paying for emergency surgery was beyond his means. The family was quickly referred to the Santa Cruz office of Solidarity Bridge/Puente de Solidaridad, whose staff expedited Ely's transfer to the Incor Hospital and his life-saving surgery the very next day.
Solidarity Bridge will continue to support the family, given that Ely will need additional surgery when he is older to manage his underlying heart condition. In the meantime, after almost a month in the hospital, he is now home with his doting family. His grateful father relayed the following message: Muchas gracias, and may God bless you!