Lucas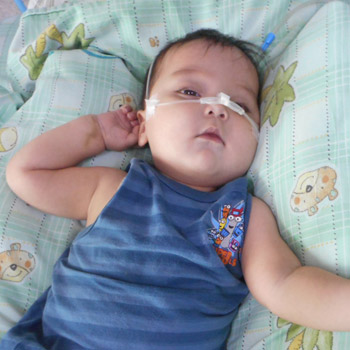 Lucas was the youngest of Julio and Carla's four children. He appeared to be a perfectly healthy baby until around 8 months of age when he began to cry incessantly, turn blue, and struggle to breathe. Julio and Carla rushed him to their local hospital, where doctors immediately recognized his delicate condition and transferred him to a private clinic. The family couldn't afford the clinic so they arranged to move him again, this time to the large, public Hospital Japonés in Santa Cruz. Studies there confirmed Lucas suffered from severe pulmonary stenosis. Lucas was unable to breathe due to the obstruction of blood flow from his heart to his lungs. He remained in the intensive care unit on oxygen and under close medical supervision while his parents grappled with the news that their son needed surgery.
Julio's income as a truck driver was just enough to cover the family's day-to-day expenses and they could see no way to pay for such a specialized operation. The family was referred to the Solidarity Bridge Children's Heart Program, through which they received support for Lucas's surgery on October 23, 2018. Unfortunately, he did not respond well to surgery, and despite the best efforts of the pediatric heart specialists, his condition declined until he passed away on November 14.
The social worker and chaplain at Puente de Solidaridad, Solidarity Bridge's partner organization in Santa Cruz, accompanied the family throughout their ordeal and continue to support them as they grieve the loss of their son.