Leonardo Duran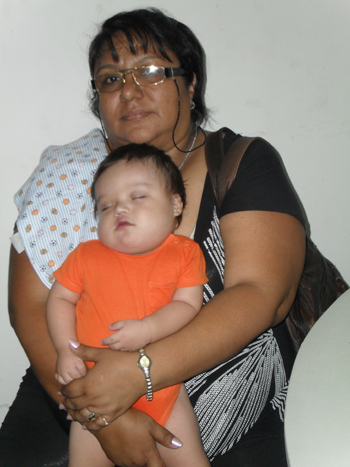 Seven-month-old Leonardo Duran is the youngest of three sons of Mario Duran and Sandra Camacho. The family lives in the mother's sister's home in Santa Cruz, where Sandra works in her sister's restaurant, earning a monthly wage of 1,200 Bs (US $170). The family had previously rented a small apartment which they moved out of to save money for Leonardo's medical care. Mario's income as a street vendor working in the city markets is highly variable.
Upon Leonardo's birth, the family was surprised to learn that he has Down Syndrome. That reality has been very difficult for the Duran household and their extended family to accept and manage. Sandra explains this process in her own words: "His little fingers, his little ears, his neck, I wanted to believe it wasn't true, but my heart beat fast. My husband only after five months accepted that my little son has Down Syndrome. We went to FUSINDO and he saw the other little ones who had the same traits as my little boy … my mother still does not accept and prays every day that it not be true." Nevertheless, they report that Leonardo has brought them happiness and is very intelligent.
Leonardo's heart malformations became apparent "because when he cries or complains he gets blue. At night he can't sleep because he suffocates and he can't breathe." He was diagnosed with Tetrology of Fallot and additional complications. His open heart surgery was performed with very good results on February 10, 2012 at the Incor Clinic in Santa Cruz, and on February 13 he was discharged.