Sophie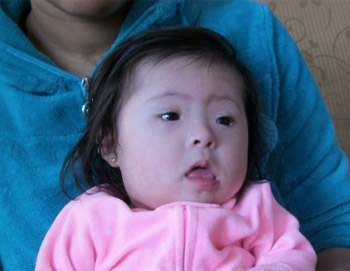 It has been a struggle for Sophie's parents to see their only child suffering. Sophie was born with a heart condition called VSD, which refers to a hole in the wall separating the two pumping chambers of the heart. As a result, Sophie experiences long periods of cold, punctuated by high fevers. She is underweight for her age, often agitated, and at times turns purple due to lack of oxygen. Doctors at the Belga Hospital in Cochabamba advised Sophie's parents she would need surgery to correct the heart defect, but the money the family earns could not even cover a third of the anticipated cost of the surgical procedure.
Puente de Solidaridad staff visited the family in the single room they rent within a relative's home in Cochabamba. The father, a taxi driver, is the sole wage earner, while the mother is dedicated to caring for Sophie who requires full-time care.
Sophie's father shared, "Only I can work for now. The money we have is not enough to cover our basic costs. We are looking for help so my daughter can have surgery. We will be eternally grateful for the help you can give us."
Sophie's parents were thrilled when Sophie was finally selected as a candidate for aid through the Solidarity Bridge/Puente de Solidaridad Children's Heart Surgery Program, made possible by Dharma Social Programs. On September 22nd the nine-month-old underwent a successful corrective surgery with Dr. Ericka Perez at the Belga Hospital in Cochabamba. One week later, her parents were grateful and relieved to bring their only daughter home in renewed health.