Juana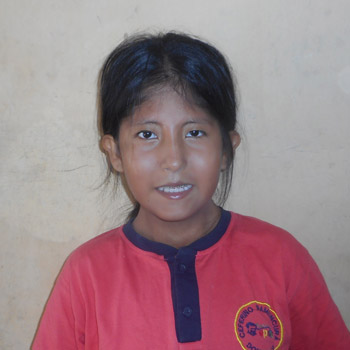 Coughs and colds are just a regular part of childhood. Most children recover quickly and life goes back to normal. When Juana developed a persistent cough, and became weak, her parents had reason for alarm. When Juana was two-years-old she was diagnosed with a congenital heart defect. Fortunately, she was able to undergo corrective surgery with support from Dharma Social Programs. Her parents took the infant home where she was able to make a full recovery. Soon her baby brother was born and the small family built a life in Santa Cruz. Her parents struggled then and now to provide for Juana and her brother. For many years now, they have worked selling food on the street. Juana is now twelve years old and is aware of how hard they work to keep the family afloat. She says when she grows up she will get a good job, buy a house for her family, and take care of them for a change. However, late last year, Juana began to cough regularly and grow weak. Her parents took her to the hospital and were told she would need a mitral valve replacement surgery to replace a heart valve that was not working properly. Juana stopped going to school as her condition worsened and her parents did all they could to find help. Puente de Solidaridad social workers went to visit the family in their one-room apartment and confirmed their need for economic assistance, accompaniment, and support. Juana's mother said,
"It's painful to see my daughter sick again. She knows what's happening and knows she needs an operation. My sister is loaning me money to help with the surgery. We came back to you for help for our daughter. We are very grateful. May God bless you."
With her parents anxiously waiting nearby, Juana underwent biological mitral valve replacement surgery on April 30th with Dr. Barrientos and Dr. Jaldin at Incor Hospital in Santa Cruz. The surgery was a success and Juana was released from the hospital ten days later. Juana is home now, recovering and anxious to get back to school and back to her normal routine. Juana and her parents express their deepest thanks to Dharma Social Programs and donors Isaac and Renee Goff for the profound and live saving support you have provided for their family.