Jonathon Basto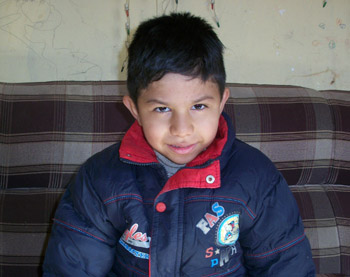 Zulema and Raul live in the town of Sacaba just outside of Cochabamba, Bolivia, with their two children, Nicole, 13, and Jonathon, 6. Raul repairs motorcycles for a living. Zulema would like to go back to work to supplement the family income, but has been unable to leave Jonathon's side since his birth. Jonathon was born with a small opening in the heart wall known as a ventricular septal defect. It is the most common congenital heart defect, and Jonathon's case was relatively minor and completely fixable with the proper surgery. But since it had been left untreated, the effects plagued Jonathon and the family. Jonathon quickly tired whenever he tried to run and play like other boys his age. He also suffered frequent fevers and complained of sore muscles and malaise. When Jonathon started kindergarten, Zulema often stayed with him at school to give him the extra care he needed.
We knew about my son's problem, but we did not have the money to have him operated. In his check-ups I asked the doctor to please help us. Then they gave me the address of [Puente de Solidaridad]. We are very grateful to God for this opportunity and to you for helping us.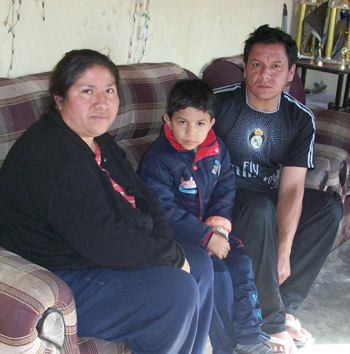 Jonathon underwent open heart surgery on May 18th at El Belga Clinic in Cochabamba. He came through surgery extremely well and was sent home just five days later. Once he is fully recovered and back in school, Zulema and Raul are hopeful he can finally live a normal childhood. The family also hopes they can now focus on improving their standard of living, including soon moving out of Zulema's mother's home where they have been forced to live by their financial circumstances.
Thank you to all who made Jonathon's long-awaited surgery possible, including especially Isaac and Rene Goff for their indispensable support of the Solidarity Bridge children's open-heart surgery program. Restoring Jonathon's health means not only a better future for him, but also for the entire family. What a difference solidarity can make!