Alejandro Canaviri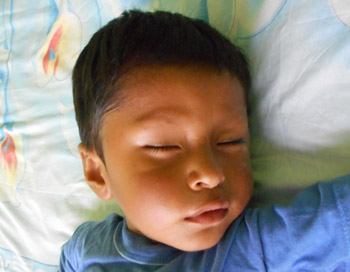 Alejandro was born in August 2012 in La Paz, Bolivia. Soon after birth, the baby was diagnosed with a significant ventricular septal defect accompanied by patent ductus arteriosis. This combination of a defective heart wall and the failure of the ductus arteriosis fetal blood vessel to close after birth left Alejandro with severe breathing difficulty, resulting in an inability to gain sufficient weight and develop as a normal infant. Doctors explained to his young parents that Alejandro needed heart surgery to survive and thrive, but the surgery was not available in any of the country's public hospitals.
His parents, Victoria and Mauro, were left without options. Victoria describes the long years that followed:
I have suffered with my son for three years. I could see that he wasn't well, that he couldn't play like other children his age. The doctors said we could take him to a private clinic, but they wanted to charge me $15,000 dollars, and our family is poor. Every day I would wake up and be overcome with sadness when I looked at my son, unable to do anything.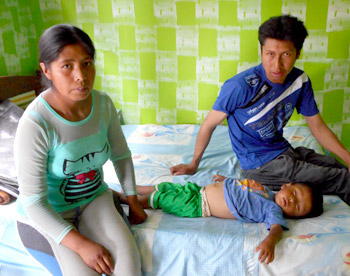 Around Alejandro's third birthday, Mauro's uncle, who lives on the other side of the country in Santa Cruz, told them about news reports that the local public children's hospital had begun to perform heart surgeries. Victoria took the baby to Santa Cruz, while Mauro stayed behind to continue to work as a carpenter to cover the family's most basic expenses. Victoria and Alejandro stayed with the uncle while the baby adapted to the lower altitude and wetter climate in Santa Cruz. They also had to wait until the hospital could procure the necessary equipment to perform Alejandro's surgery; in addition to significant funds provided by donors such as Isaac and Renee Goff, each open heart surgery uses an oxygenator and other very expensive supplies, many of which are generously donated by Solidarity Bridge's in-kind donors, including the Medtronic Corporation.
The team of heart surgeons at the Children's Hospital performed Alejandro's surgery on November 2, 2015, successfully patching his heart wall and clipping shut the open blood vessel. By November 10, Alejandro was discharged to continue his recovery at home with his parents.
For the very first time, Victoria and Mauro can now wake up each day knowing that their beautiful son has a shot at a normal childhood -- running and playing, going to school, and whatever else his life brings. The opening of the public pediatric heart facilities in Santa Cruz has truly been a Godsend to this and so many Bolivian families.