Mateo Vacaflor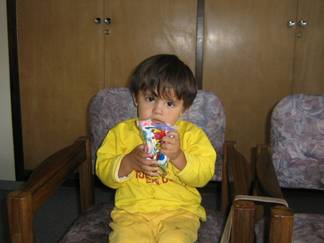 Mateo Vacaflor is a 2 and half year old who is the younger of 2 siblings. His father is Victor Vacaflor. He is a 25 year old who is a house painter and a welder's helper. He is married to Mateo's mother, Patricia, who is a homemaker. Mateo's sister is 6 year old.
They are from the area around the city of Sucre, quite a distance from Cochabamba, but they moved there to be able to help Mateo. They live in a house in which they rent 2 rooms. The four members of this family share a bedroom and the other room is for cooking, eating and living. They share a bathroom with the other house renters. Victor is able to make $150 a month which is only enough for survival.
They told our social worker: "Hace tiempo que estamos buscando una ayuda para hacerle operar a nuestro hijito. Porque no contamos con recursos económicos, fuimos a Tarija y allí nos comentaron de esta Institución. Fue con esa esperanza que vinimos y creemos que Dios nos esta ayudando porque no nos cansamos de rezar para que nuestro hijito pueda sanar".
"We have been hoping for help to be able to operate our small son for a long time. Because we do not count with financial resources, we went to the city of Tarija and there they told us about your institution. It was with that hope that we came and we believe that God is helping us because we do not tire of praying that our little son will be healed."
Mateo was operated successfully at the end of February of 2009 by Dr. Benjo Gareca and his open heart team and is doing well. This surgery was made possible through the financial support of Dharma Trading Co.