Yolana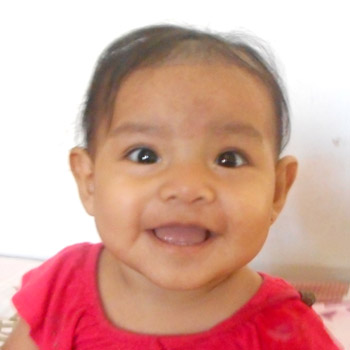 Lucena is a single-mother doing everything she can to support her one-year-old daughter. She earns a meager living selling DVD's at a street kiosk and rents one room in her employer's home for herself and her daughter, Yolana.
It wasn't until Yolana was six months old, that Lucena noticed something wasn't right. The baby was not feeding regularly, was tiring easily, and her heart was making a strange sound with each heartbeat. Upon visiting the hospital in Santa Cruz, she was referred to a cardiologist, who determined Yolana suffered from patent ductus arteriosus (PDA.) This is a heart problem in which abnormal blood flow occurs between two of the major arteries connected to the heart as the result of a blood vessel that fails to close after birth. In some cases, like Yolana's, surgery is required to close the PDA.
Lucena reached out to family and to the child's father for help, but in the end the only support she could find came from her co-workers and from the generosity of the Dharma Social Projects pediatric heart program. Puente de Solidaridad social workers confirmed the family's dire financial situation and Yolana was scheduled for surgery at Incor Hospital in Santa Cruz on June 4th. Lucena was able to take her baby home from the hospital three days later with gratitude and hope for daughter's future.