Yefferson Saavedra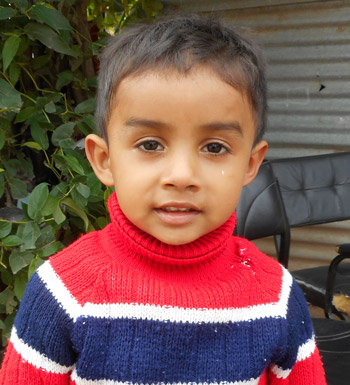 The joyful images of four-year-old Yefferson and his loving family belie their especially trying economic and medical struggles.
When he can find employment, Yefferson's father José Carlos, 28, works as a carpenter. In a good month he might earn about $200 dollars, just enough to feed his family of five and pay the water and electricity bills. The family lives in a dirt-floor room with wooden walls and a corrugated metal roof, sharing a bathroom and patio with adjacent family members. Yefferson was born with syndactyly, a congenital malformation of the hands in which some of his fingers are fused together. The family was told they needed to wait until he was older before corrective surgery could be attempted. In the meantime, Yefferson failed to grow at the proper rate and appeared to struggle and sweat profusely overnight, but his regular check-ups failed to provide an explanation. It wasn't until Yefferson was submitted to more rigorous pre-op studies in preparation for his hand surgery that a cardiologist detected ASD, a heart malformation apparently unrelated to his hand deformity.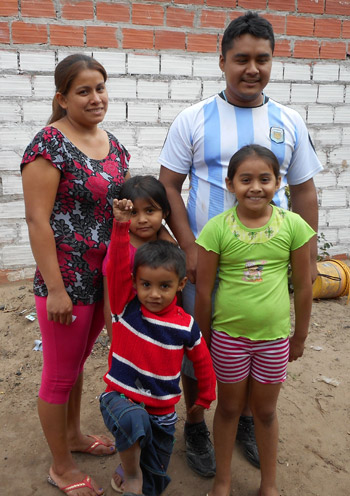 The hand surgery would be covered by Bolivia's SUMI health care program for children up to five years of age. But SUMI does not cover surgery to correct congenital heart defects.
As Yefferson's mother Ana Sofía tells the story:
My son was born with malformations in his little hands.… When they told us about his heart problem, it was like a bucket of cold water, because they told us that type of surgery is only done in a private clinic. As a mother I was crushed, because we are people with few resources.
Fortunately, the doctors who said that Yefferson's heart surgery was only available through a private clinic were mistaken. Thanks to coordinated efforts by a wide group of national and international actors convoked by Solidarity Bridge and significant financial backing provided by Isaac and Renee Goff, this surgery is now available at the public Children's Hospital of Santa Cruz. There, on August 31, 2015, Dr. Roberto Pacheco placed a bovine patch to repair Yefferson's heart. Yefferson spent nine nights in the hospital recovering and regaining his strength, prior to discharge. Once he is fully healed, Yefferson will now be eligible for corrective hand surgery.
To again quote Ana Sofía:
When we found out about [Puente de Solidaridad], it gave us hope for our son's life. We will be eternally grateful for your help. May God bless you for what you do for the children, who are angels on Earth.