Ana Fernandez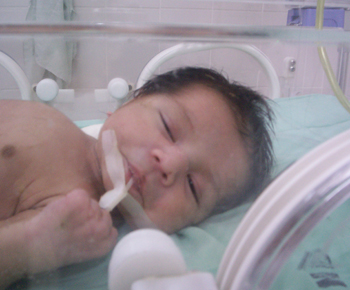 Soon after birth, Anita was transferred from the health clinic where she was born to the Hospital de Niños, Santa Cruz's public children's hospital. She arrived in very poor condition, struggling to breathe. Specialists at the hospital's new pediatric heart facilities determined she needed emergency surgery or she would not survive.
Fortunately, Dr. Roberto Pacheco was able to repair Anita's heart with the same thoracotomy approach he had recently used to treat the hospital's first two pediatric heart patients, Britany and Sharlene. Her surgery took place when she was just 13 days old. Anita then spent over two weeks in the new pediatric CCU while her heart mended and her body gained strength. On her 1 month birthday, Anita was strong enough to be discharged to continue her recovery under her family's care at home. Like all such patients, Anita will continue to be closely monitored over the coming weeks, months and years by the same hospital staff that saved her life, and by the social workers of Solidarity Bridge's office in Santa Cruz, Puente de Solidaridad.
The birth of such a sick child had been almost more than her mother, Ana Paola, could bear. Anita's father had died of liver cancer just weeks after she was conceived, leaving Ana Paola deeply grieving and destitute. Ana Paola's parents, Roly and Modesta, already struggling to support their heartbroken daughter and her six younger siblings, were determined to do what they could to help their granddaughter.
Everyone involved is grateful for all those who came together to help little Anita. We are especially thankful for Isaac and Renee Goff, whose support makes her surgery and so many others possible.
Adelaida received her surgery on October 1st, 2012 at the Clinica Belga in Cochabamba. Her parents are very grateful for the support from Solidarity Bridge, without which little Adelaida's life may have been cut short, and most certainly would have been marked by health problems. She is now a happy and virtually normal toddler.
In the words of Modesta:
We are now more tranquila with the support you are giving us. May God bless all that you do for our little angel, given to us by God.