Kevin Condori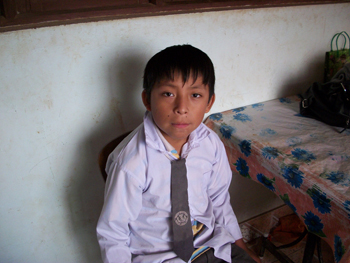 Kevin Condori, age 11, lives with his 8-year-old sister and his mother, Quintina, in a two- room home along a highway near Cochabamba, Bolivia. His father abandoned the family approximately five years ago, leaving the mother to support them through odd jobs including domestic labor in private homes and occasional employment through the local government cleaning parks or fixing streets. Her monthly income of around 960 Bs (US$137) is barely enough to cover the family's basic subsistence.
Kevin's condition had gone unnoticed for almost 10 years, but in 2010 he began to be short of breath and suffer from strong heart palpitations. The family has no health insurance and the public hospital lacked the equipment needed to diagnose the problem, so Quintina sought assistance through a Bolivian nongovernmental organization associated with the Archbishop's office to cover diagnostic expenses in the Clínica Belga in Cochabamba. There Kevin was diagnosed with a congenital malformation of the heart that required surgical correction.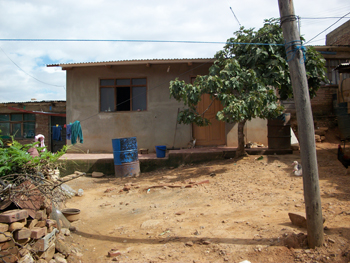 Kevin was successfully operated in February 2012 and should be able to return to the normal activities of other boys his age. This surgery was made possible through the financial support of Dharma Trading Co.
Kevin's mother shared the following during the social worker's home visit: "I don't know what I can do so that my son is cured. I don't know how to read or write and I understand little of what the doctors explain to me. They only tell me that he needs to be operated on. We don't have any money, their father since five years ago doesn't send us money or call … the truth is I don't know where he is. I just ask God to help so that my small son can be cured."