Fernanda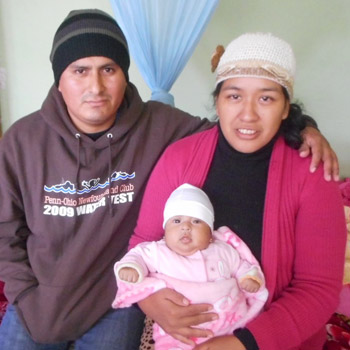 Fernanda, who is five months old, is Yery and Maribel's only daughter. Just ten days after she was born, Fernanda got very sick and had to be taken to the hospital. After several diagnostic exams, Fernanda was referred to a pediatric cardiologist who diagnosed her condition as a supracardiac total anomalous pulmonary venous connection (TAPVC), which is a rare congenital heart condition that requires open heart surgery. Maribel's pregnancy had been healthy so they were confused when the cardiologist told them that their infant daughter needed a complex and dangerous surgery to treat her condition.
Yery and Maribel did not have the economic resources to make the surgery possible. Yery drives a taxi in the city of Santa Cruz, and has a variable income. Maribel helps her parents preparing food that they later sell in the market. While her parents are not financially wealthy, little Fernanda is very fortunate as her family values cooperation and care, and rallied to offer her support. Maribel's parents opened their modest house to welcome the young family in order to pool resources for the surgery. Despite these efforts, Maribel and Yery were still short of funds to pay for Fernanda's delicate surgery, and time was running out to correct the condition.
At Fundacor, Maribel and Yery learned that the Puente de Solidaridad/ Solidarity Bridge Children's Heart Program could help them by providing funding and surgical support.
With support from Puente/ Solidarity Bridge, and Dharma Social Projects, Fernanda had surgery in early July 2018 to correct her condition at Incor Hospital in Santa Cruz, Bolivia. Dr. Barrientos and Dr. Jaldín performed the successful surgery.
Fernanda spent 15 days in therapy and is now at home being taken care of by her parents. She is recovering well, and expected to make a full recovery to lead a healthy life. Maribel has expressed her profound gratitude to all who worked to make this life saving surgery possible.