Yadimar Nina Jimenez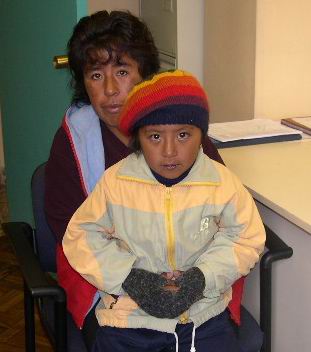 This is Yadimar Nina, a child of Aymara indigenous background who is five years old. She is with her mother, Yovona Jimenez. She has two siblings, Yoselin who is 7 and Yordan who is 2. Yadimar was born with a congenital heart defect that was discovered when she was 2. She faints, often has headaches, high temperatures and her face and hands are purple. She has difficulty walking and is depressed by her condition, leaving her unwilling to speak and without desire to live. She does not sleep well, sweating at night and being quite warm.
Yadimir's family is quite poor. Her father, Antonio Nina is a bricklayer's assistant, who when he has work, makes 150 Bolivianos a week (a little less than $20). Her mother works in street sales and makes between 80 and 120 Bolivianos (between $10 and $20). They live on the hillside of La Paz, with other families, in a half built house that belongs to Yadimar's grandparents.
Her life depends on having the surgery and each day that passes makes the risk of her losing her life greater. She will have her operation at the Hospital Arco Iris in La Paz, one of our partner hospitals. It will be open heart surgery that will correct the defect. The operation will cost $1,850. A similar operation in the U.S. would cost in the tens of thousands.
"ayúdenme a salvar a mi hijita, quiero que viva, que esté siempre con nosotros" y también "ella se da cuenta de todo lo que pasa y me pide que no la deje morir. Gracias a todos por lo que puedan hacer por mi hijita, por mi familia. Por favor ayúdenme."
"Help me to save my daughter; I want her to live, to have her always with us. She realizes all that is happening to her and asks me to not let her die. Thank you for all that might help my daughter, for my family. Please help me."