Leonardo Meneces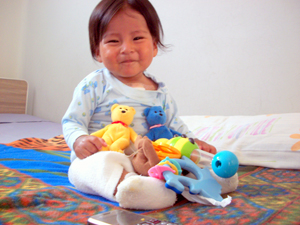 Leonardo Meneces is the second son of a humble but very hard working and loving couple, Grover Meneces and Ana Isabel Arias. The family lives in a rented two-room bare-brick home in the town of Quillacollo on the outskirts of Cochabamba, Bolivia. Grover works as a truck driver, delivering heavy cargo to outlying areas of the country for a wage of around $190 dollars a month. His job often includes spending several days away from home, leaving Ana Isabel alone with the children.
The sweet photographs of this playful child, who is a one year old, contrast sharply with the reality of his severe medical situation. Doppler echocardiograph exams revealed a long list of conditions, including cyanotic congenital heart disease, with total anomalous pulmonary venous return, inter-atrial communication of the ostium secundum type, and accompanying complications. These are extremely complex deformities that would tax a US surgical team. While the couple looked for a way to obtain corrective surgery, they focused great care to keep Leonardo as healthy as possible, including protecting him the respiratory or other infections that his very active four-year-old brother, Luis Gabriel, might bring home from kindergarten, and to which Leonardo was especially vulnerable. Sometimes, it could be too much for Ana Isabel to manage on her own: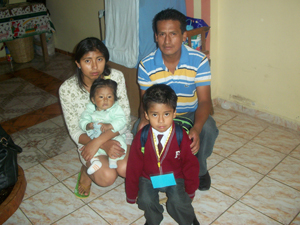 "We suffer a lot seeing our small son ill. When he gets sick we don't know what to do; we immediately take him to the hospital where they admit him so he can recover. The painful part is that we are poor and we don't have the money to have him operated."
The social worker who met the Meneces family was especially impressed with the loving and engaged manner through which the couple raised their children and strived to resolve conflict and overcome hardship. Fortunately, the surgery was satisfactorily performed on March 30, 2012 at the Clínica Belga in Cochabamba. This surgery was made possible through the financial support of Dharma Trading Co. We are hopeful that Leonardo will be able to live an active and normal life just like his brother, and his family will also grow even stronger and thrive.