José Daniel Sandoval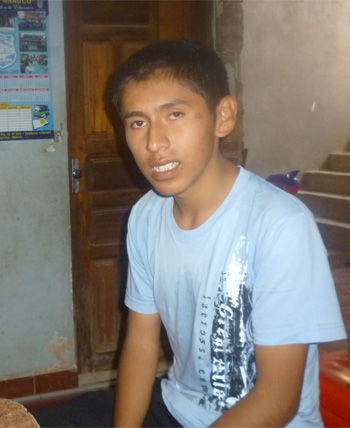 When a child is born in the Untied States with a significant congenital heart defect, it is most often detected and a treatment plan is put into place soon after birth. However, in a country such as Bolivia, diagnosis and treatment may simply be inaccessible for many families. Such was the case for the Sandoval family of Cochabamba.
Even without sophisticated testing, it was clear from a very young age that Daniel did not have the same energy and strength of other boys his age. His pediatrician told his parents, Roxana and José Felix, that José Daniel might grow out of his problem and eventually catch up in size and ability with his peers. But as he grew, Daniel fell further behind his friends. When he tried to play alongside them, he was quickly short of breath and suffered chest pain. But he was especially hurt by the fact that his classmates would tease him about his inability to participate in physical education class and recess games.
Eventually, Roxana and Felix took Daniel for a proper diagnosis. An echocardiogram and other tests performed in the Belga Clinic in Cochabamba revealed a long list of problems. Daniel had acyanotic congenital heart disease, with a large ostium secundum interatrial shunt, moderate dilation of the right heart cavities, moderate-to-light tricuspid regurgitation, and a list of other related conditions such as secondary pulmonary hypertension.
Daniel needed surgery. The family scrounged and saved for months, but it was already difficult for the family to get by on Felix's monthly salary of $1,400 Bolivianos, about US$200, as a long-distance trucker. In the spring of 2013, the doctors told the family they were running out of time. Daniel was already 16 years old, long past the optimal age for treatment. If they delayed any longer, it would be too late.
On May 20th, 2013, Daniel received his long-overdue surgery at the Belga Clinic in Cochabamba. This surgery was made possible through the financial support of Dharma Trading Company. He remained in the hospital under the close eye of his surgeon, Dr. Carlos Brockmann, until his discharge on May 25th. The family is very grateful to have found the help they needed through Solidarity Bridge and its generous donors who made the surgery possible.