Daleth Aranda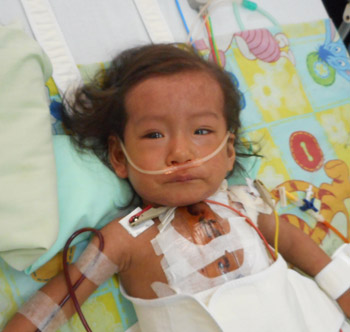 Cassandra and Julio met about five years ago as students at the Universidad Autónoma in Potosí, Bolivia. Both remain economically dependent on their respective families while they finish their degrees. They now have two daughters: Zailen, 4, and the baby, Daleth.
Daleth was born with a hole in her heart, leading to her inability to grow and thrive as she should as an infant. Cassandra's mother, Gladys, begged her daughter to come home to Santa Cruz in the hope that the larger city would have more opportunities for Daleth to receive the medical care she needs. Cassandra and her daughters now share a rented home with her mother and an aunt. Julio does not contribute to the family's expenses, so Gladys sustains the three generations of her family on her schoolteacher's salary of around US$330 a month.
Dr. Virna Severiche, a pediatric cardiologist at the newly-opened pediatric heart surgery facilities at the public Children's Hospital of Santa Cruz, confirmed the baby's diagnosis and explained that the baby would need heart surgery to clip shut the persistent gap in the wall between her heart chambers.
When she was just shy of 11 months old, Daleth underwent surgery at the Children's Hospital, in the care of surgeons Dr. Roberto Pacheco and Dr. Arturo Barrientos. She spent nine days in post-op recovery. Daleth was home at her grandmother's in time to celebrate her first birthday, and she is expected to make a full recovery.