Carolina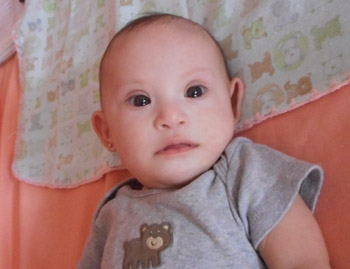 Carolina is described as a "miracle" by her parents. Carolina was born to the couple after a long wait followed by a difficult pregnancy that required extra medical care and unexpected expenditure. The excitement of Carolina's birth was overshadowed by the realization that the child suffered patent ductus arteriosus, commonly called a hole in the heart. Surgery for little Carolina was urgent.
The baby's parents were willing to move forward with treatment. But Carolina's father did not have a job. Her mother, a physical therapist, was unemployed but was diligently working to build a clientele for her services through home visits. Still, the couple believed there would be a solution. They sought out Solidarity Bridge's program in Santa Cruz and, with the help of Dharma Social Projects, achieved the much needed surgery.
With the promise of health, Carolina's future is now much brighter.