Luz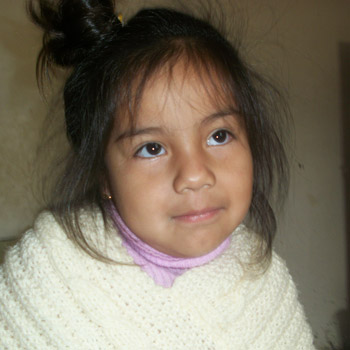 Three-year-old, Luz, was born in Argentina. She was just an infant when her parents separated and her mother, Lidia, took her and her older brother to live in provincial village on the outskirts of Cochabamba, Bolivia. They were fortunate to find shelter in the home of Luz's grandparents, who had passed away. As a single-mother, Lidia tends a small garden of vegetables and potatoes to provide food for her two children. While she receives some financial support from her ex-husband in Argentina, she is currently unable to seek employment due to Luz's increasingly fragile health. Lidia says that as soon as Luz regains her health and goes to school, she will look for a job and help her children to adjust to their new environment.
During a routine pediatric visit, doctors determined that Luz suffered from a congenital heart defect called persistent ductus arteriosus (PDA.) She was referred to cardiologist, Dr. Gabriel Echazú, who advised that Luz undergo a procedure, as soon as possible, to close the opening in her heart.
Dr. Echazú told Lidia about the Solidarity Bridge/Puente de Solidaridad Children's Heart Surgery program. Lidia visited the Puente office in Cochabamba and received a home visit from social workers who determined her eligibility for assistance through the program.
On November 27, 2018, Dr. Echazú led the corrective procedure, inserting a device to close the hole in Luz's heart. The next day, to Lidia's great relief, Luz was discharged from the hospital. She expressed her gratitude to the donors who helped make this surgery possible for her daughter. With the weight of Luz's health problems finally lifted, Lidia and her children are able to focus on the important work of building a new life together in their new home.