Reina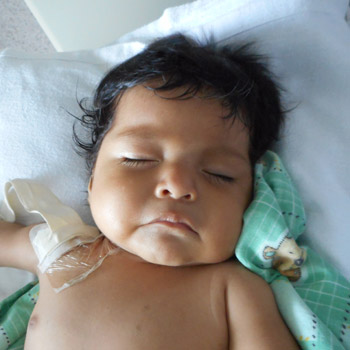 Reina was born on January 6, a date celebrated throughout Latin America as the Day of the Kings in commemoration of the arrival of the three wise men to the birthplace of Jesus in Bethlehem. In honor of the date, her parents, Francisco and Alicia, decided to name her Reina, Spanish for "Queen." They were delighted to take her home to their busy blended household, including another three daughters from previous relationships, one son they share, and Alicia's parents. Francisco works as a bricklayer, and the entire family gets by on around U$350 - $400 a month.
As an experienced mother, Alicia knew soon after bringing Reina home that something was not right: When my little girl was born, I noticed she got very tired when she drank her milk. I took her to the pediatrician and they said it was normal, but she cried a lot.
Alicia demanded a referral to a specialist, and after visiting two other hospitals, a pediatric cardiologist discovered that Reina was born with a large hole in her heart, affecting all four heart chambers where they would normally be divided.
At just four months of age, Reina underwent an especially complex surgery. Reina was connected to a pediatric heart-lung bypass machine to allow highly experienced surgeons at the Incor Hospital to reconstruct the missing heart walls. After just ten days in the hospital, Reina was strong enough to go home.
Alicia was grateful to have found both the medical diagnosis and complex treatment her daughter needed, along with the support of the Heart Program of Solidarity Bridge/ Puente de Solidaridad. As she expressed to the social workers: It was a blessing!
We are especially grateful to Dharma Social Programs for the financial support to make this and so many other children's heart surgeries possible in Bolivia.