Jacqueline Quispe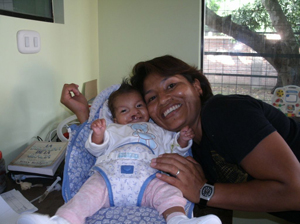 This baby was born with serious physical problems. She not only has a cleft lip and palate, but she also had a congenital heart defect – a hole between the ventricles of the heart. She has had a difficult start in life, but is now in very good hands.
Jacqueline is 18 months old and was born in the countryside outside of Santa Cruz, Bolivia. Her mother abandoned her after her birth. Because she had a cleft lip and palate, she became very thin because of the difficulty in getting the nutrition she needed. She was brought to a specialized center for malnourished children when she was 8 months old. After gaining the necessary weight, the government placed her in a home for abandoned children called "House of the Precious Ones." She is fortunate and has been flourishing since arriving there. The 6 children in the home have a substitute mother (4 of them, in fact) 24 hours a day
Before deciding to proceed with her heart surgery Jacqueline had a neurosurgical consultation, including CAT scan, to determine if there were other problems. She is perfectly well, except for her heart and cleft lip and palate. Jacqueline had her surgery by Dr. Arturo Barrientos and his team in mid-October and is well after struggling to recover from such a major surgery.This surgery was made possible through the financial support of Dharma Trading Company. She will be able to receive her cleft lip and palate surgery in this coming year.