Elias Coyo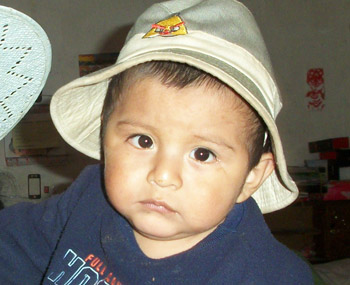 Angela Flores, a 35-year-old mother of seven, sells gelatin snacks to supplement the laborer's wage she earns harvesting flowers at a plant nursery in Tiquipaya, Bolivia. Of the roughly $150 dollars she brings home each month, about $120 is spent on food. Her oldest son, Wilfredo, 14, works as a gardener to pay for his own clothing and school expenses. As the other children reach adolescence, they will be expected to do the same. Angela hopes they can study at least through middle school, but it is an exhausting and meager life for all of them. Angela's husband, a carpenter by trade, no longer contributes to the family; he is now a few years into serving a 30-year sentence at the infamous San Sebastian prison in Cochabamba.
Angela's youngest son, Elias, was declared healthy at birth but a few weeks later started to suffer persistent colds. He also struggled to nurse, and quickly lost his breath and turned blue if he cried. This meant he needed constant care, making it especially difficult for his mom to go to work.
A pediatrician at the Cuschieri Hospital diagnosed Elias's heart problem during a routine check-up, and referred Angela to the Belga Clinic in Cochabamba where an echocardiogram test could confirm the type and extent of the problem. They discovered that Elias had a peri-membranous ventricular septal defect, or VSD, which is the most common congenital cardiac anomaly. Surgery was needed to close the wall between the two sides of his heart to correct the blood flow between the heart and lungs. This surgery requires the baby to be connected to a bypass machine to take over the functions of the heart and lungs while the heart is being repaired. It is a surgery currently available in Bolivia only at a few private clinics, including Belga Clinic.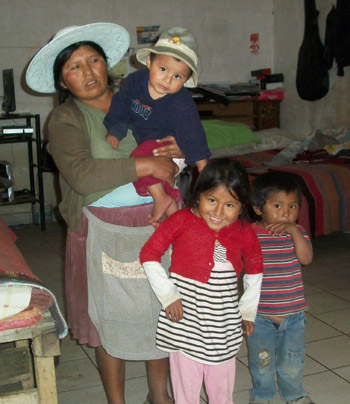 Angela was fortunate to have the support of the local Fundación Cuschieri, which in turn put her in touch with PuenteSol, the local office of Solidarity Bridge, and its heart surgery program made possible by the generosity of Isaac and Rene Goff, owners of Dharma Trading Company. It took this long chain of solidarity to finally make possible Elias's surgery, successfully performed at El Belga by Dr. Erika Perez on June 25th, 2014. Elias remained in the hospital another 10 days until fully recovering before returning home to Tiquipaya with his family.