Marbelys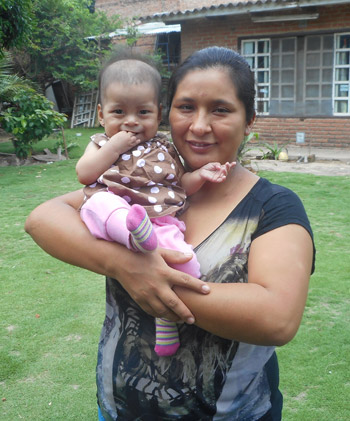 Marbelys's mother was seven months pregnant when her doctor told her that her baby would be born with a heart malformation. The doctor was correct – and Marbelys spent her first weeks in the hospital while the extent of her problems was determined. The entire family, including an eight-year-old sister excited at the prospect of having a playmate, suffered with the uncertainty and fear of loss. The baby's mother shuttled back and forth between the hospital and home to be with her two daughters, while the father worked long days as a bus driver.
The family consulted with specialists in both Santa Cruz and Cochabamba before confirming the need for two heart repair surgeries. The first surgery, to clip the ductus arteriosus blood vessel which failed to close at birth, was performed on March 21, 2016, at the public Children's Hospital in Santa Cruz. The tiny patient spent a week recovering in the hospital before she was strong enough to go home with her overjoyed family. The second surgery will be scheduled after Marbelys has her first birthday.
The family is very grateful to the staff at the Santa Cruz Children's Hospital for taking such good care of Marbelys, and to all those involved in the Solidarity Bridge/Puente de Solidaridad Children's Heart Surgery Program, especially Isaac and Renee Goff, for making possible the complex treatments that would have been out of reach for this family.