Andrea Illanes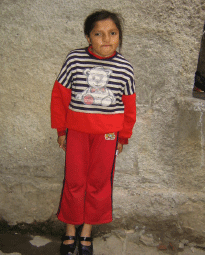 Andrea is a 15 year old girl, though she looks younger. She suffers from a disease called, Turner Syndrome. This disease is a genetic condition in which a female does not have the usual pair of two X chromosomes. Turner syndrome occurs in about 1 out of 2,000 live births. Andrea was also born with a congenital heart defect that necessitated an operation. The problem has gotten worse lately, only allowing her brief periods without having to be resting. Andrea has 3 other siblings and her father, Carlos, drives a truck for a living. They make enough to barely keep up with expenses.
The mother says:
"Mi hijita desde que nació ha sufrido por sus problemas de salud, nosotros siempre hemos hecho todo lo que podíamos para ayudarle, pero ahora el costo de la cirug√≠a es imposible que podamos cubrir, es por eso que estamos buscando ayuda para que pueda operarse y vivir hasta que Dios Quiera."
"My dear/small daughter has suffered since birth with her health problems. We have always done everything we can to help her. This surgery is so costly that it is impossible for us to cover it. That is why we are looking for help to get operated and live until God wills."
She was successfully operated on in mid February.This surgery was made possible through the financial support of Dharma Trading Company.