Guadalupe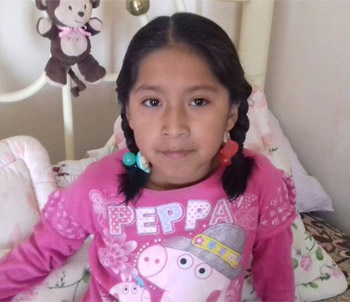 Sea earns just over $250 a month working as a taxi driver in Cochabamba, Bolivia. He and his wife, Jackelin, and their two children rent two rooms in an apartment shared with another family. Jackelin, a full-time mother, cares for the needs of their new baby boy and their 9-year-old daughter, Guadalupe, who suffers from a congenital heart condition.
Guadalupe has had heart issues since birth, stemming from a ventricular septal defect (VSD.) VSD is an opening in the dividing wall between the two lower chambers of the heart. Lately this opening has been causing increased pain, difficulty breathing, fatigue, and agitation. Guadalupe was frightened by an episode at school in which she was suddenly unable to breathe.
Desperate for help, Sea and Jackelin took Guadalupe in for a consultation with doctors at the Belga Hospital, who recommended corrective surgery. Discouraged by the high cost of surgery, Jackelin said "I entrusted my Guadalupe to God. We've done all we can to care for her until now. Please help us to make it possible. Otherwise we won't be able to help her to improve and it may even get worse over time."
Fortunately, Puente de Solidaridad staff were able to meet with the family and with financial support from Dharma Social Programs, Guadalupe was able to undergo surgery at the Belga hospital on September 22nd. Guadalupe required a second surgery the following day. Finally, after a two week stay in the hospital, Guadalupe was able to return home to continue working toward improved health and to continue being a good big sister.