Wilson and Wilber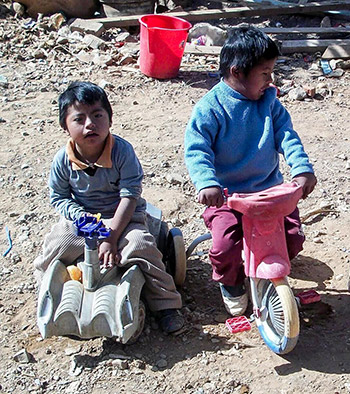 When twins, Wilson and Wilber, were both born with congenital heart defects, it came as quite a shock to their young parents. As infants, they were diagnosed with Patent Ductus Arteriosus (PDA), a condition in which a hole in one fetal blood vessel fails to close after birth, disrupting the circulation of blood to the lungs to receive oxygen.
Over time, the boys developed persistent symptoms of fatigue, continual colds, and infections as a result of their cardiac problems. Their parents decided to seek help at the Viedma public children's hospital in Cochabamba. Cardiologists suggested the boys would both need surgery to close the open ducts. Left untreated, their condition could worsen and lead to congestive heart failure.
Puente de Solidaridad social workers went to visit the family at their small home in the hills outside of Cochabamba. Wilson, Wilber's parents are humble people without much education. Their father finds work where he can as a bricklayer to support the family of five, while their mother provides full-time care for the twins and their younger sister. They live together in a two-room brick and adobe structure without running water or indoor plumbing.
Living in poverty, some neighbors advised the mother to just accept the boys' health problems, but she said that as a mother, she could not see them suffer. She had to find help. "I cannot give up. I ask you to please give me your help. God will bless you for everything you do for our children."
With help from Dharma Social Programs and Puente de Solidaridad, the boys were accepted as candidates for open heart surgery to repair the cardiac defects that had been such a source of hardship for them and their family. On consecutive days, Wilson and Wilber underwent successful heart surgeries at the Belga hospital and were discharged the following day. Their loving parents have every reason to be hopeful and grateful that their twin boys will be able to live full and healthy lives.