Sergio Montaño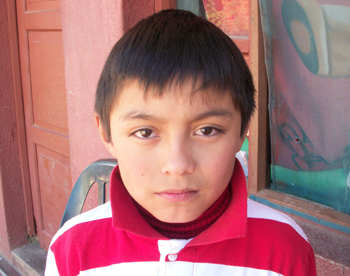 Sergio received his first pacemaker implant through Solidarity Bridge in 2011, when he was just five years old. Four years later, in mid-2015, his parents noticed that his energy level was dropping. When he began to wake suddenly in the middle of the night with severe shortness of breath, the family returned to the cardiologist, Dr. María Luisa Avendaño. Dra. Avendaño discovered that the battery in his pacemaker had less than a year left. She recommended it be replaced and upgraded to a dual chamber device, which would also require placement of an additional lead.
Sergio is the youngest of seven children. His parents, Juan and Lucia, each lost a leg when they were struck by a car several years ago. Sergio was eventually fitted with a donated prosthetic leg from a center for assistance for the disabled, allowing him to drive a taxi. Lucia uses a wheelchair to get back and forth to the sidewalk spot where she sells home-cooked lunches outside a local school. The older children help support the family as best they can; some contribute money from their own jobs and others cook the potatoes and sausages for their mother's business. But even with everyone pitching in, the family could not afford the pacemakers and other specialized health care Sergio has needed since being born with a congenital heart defect.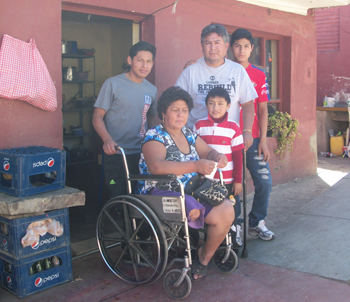 Although pacemaker implants are fairly routine surgeries provided by Solidarity Bridge in various hospitals, Sergio's especially delicate surgery was performed at the prestigious Belga Hospital by pediatric heart surgeon Dr. Carlos Brockmann. Sergio spent four days recovering in the hospital, and is now home and back in school. This case illustrates the importance of sustaining the permanent presence of the Solidarity Bridge heart program in Bolivia: the nature of the cases treated is such that multiple implants or surgeries may be required over the years, and we are pleased to be able to provide such long-term care and service for our patients, of all ages. We would be unable to keep that commitment without the consistent support of our loyal donors, such as Isaac and Renee Goff.