Cliver Ugarte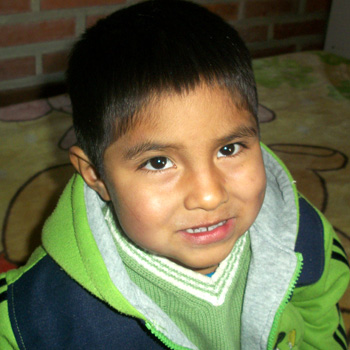 We are all indebted to the many dedicated orphanages in Bolivia that take in the children with nowhere else to go. It is a special privilege and duty for us to serve these children in most desperate need.
Cliver, now 4, has lived in the Hogar de Amor ("Home of Love") orphanage since December 2013. It is difficult to imagine a more tragic story than his. Cliver was the product of a rape suffered by his mother when she was 14. The court that handled the case at the time allowed her rapist to go free after he promised to financially support the baby and mother. Instead, he continued to abuse the young woman, who in turn took out her anger on the innocent child. Neighbors occasionally stepped in to care for and feed him, until the court system finally intervened. Cliver was removed from the home and placed in the care of Sister Maria and her team at the Hogar.
At his regular check-up in June 2014, a heart murmur led Cliver's pediatrician to identify a small ventricular septal defect. Cliver was closely monitored for a few months to determine if the hole in his heart might still close on its own. In October, the Sisters brought Cliver to the Belga cardiological hospital in Cochabamba for further studies. Belga cardiologist Dr. Gabriel Echazú recommended surgery to avoid future cardiological complications.
Cliver's successful surgery was performed on August 3, 2015. He was discharged five days later, returning to the Hogar where he receives abundant love and nourishment in the care of the dedicated Sisters and multiple volunteers.
Cliver's mother is now in counseling, and the trial has been reopened against her aggressor.