Merlia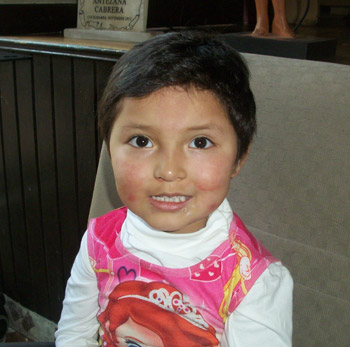 At only three years of age, Merlia faced many challenges. The little girl could not breathe easily and her face took on a purple tone when she cried. Merlia frequently suffered nosebleeds, so severe that she became anemic. The child's survival was uncertain.
Merlia's mother, seeking employment in another city to make ends meet, had entrusted the care of the little girl to her own mother. Merlia's grandmother, a street vendor, conscientiously sought medical assistance at the local public hospital. Specialists diagnosed the little girl's condition as congenital heart disease, a patent ductus arteriosus (PDA). This condition was coupled with pulmonary hypertension, a type of high blood pressure that affected the arteries in her lungs.
Merlia's doctor recommended that the child receive specialized treatment, a catheter device closure. Medical experts in Cochabamba, nine hours away could do this surgery. With limited resources and a will to succeed, Merlia's grandmother contacted Solidarity Bridge's partner in that city.
Merlia and her grandmother set forth on the long journey. They were not disappointed. Dharma Social Projects generously supported the child in the surgery she needed. Her life has changed.