José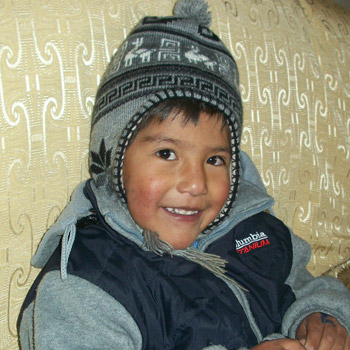 Wilfredo and Benigna are the heads of a loving blended family that includes 16-year-old twin girls (Wilfredo's daughters from a previous relationship), 5-year-old José (Benigna's son from a previous relationship), and their shared baby, Samuel.
José was born with various heart defects. As an infant he underwent Blalock-Taussig surgery to temporarily relieve his most severe symptoms while he grew big enough for corrective surgery. He is now in kindergarten, and though he has done well, his health is starting to decline. He tires easily, and is unable to keep up with his school activities. That situation is also affecting his social development, as he can't run and play with his peers on the playground. Wilfredo and Benigna knew they couldn't put off his next surgery any longer, but they had been unable to save up the money to pay for it from Wilfredo's earnings as a locksmith. Wilfredo was referred to the Cochabamba office of Puente de Solidaridad to ask about support through its Kids Heart Surgery Program.
Wilfredo pleaded with the Puente de Solidaridad social worker: Por favor les pedimos nos ayuden, no queremos que se empeore nuestro hijito. (Please, we ask for your help. We don't want our little son to get worse.)
Thanks to funds provided through Dharma Social Programs, on August 12, 2017, José underwent a surgery known as the Glenn procedure in the experienced hands of Dr. Ericka Perez at the Belga Hospital in Cochabamba. Seven days later, he was discharged to continue his recovery at home. As is standard practice for conditions such as his, José will need another surgery in a few more years for the final stage of heart repairs. For now, he can go back to school, this time hopefully joining his friends at recess.