Valentina Villagomez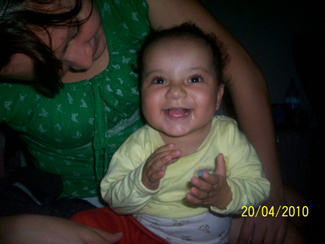 Valentina is the infant daughter, of Sheila, a single mother who works in the rural area of Santa Cruz, Bolivia in agriculture, raising and selling potatoes, tomatoes, unions and peanuts. Sheila makes approximately 40 Bolivianos a day, or about $5.
Valentina was born with a congenital heart problem and was operated in early February by Dr. Arturo Barrientos. Her heart had a very complex congenital heart defect that only the very best heart surgeon could resolve. Dr. Barrientos is one of only two heart surgeons in Bolivia who could have saved this baby's life.
Before the operation, Valentina's mother states, "We had to bring her more than 10 times to the public hosptial, San Juan de Dios. She was about to die, and the doctors just said, there was nothing to be done except wait for her to pass away. I am desperate, and do not know what to do - I do not have any money." After the operation paid for by Dharma , Valentina is now well and is infinitely grateful for the help given her by the doctors, the hospital and the generous donors.