Gabriela Herrera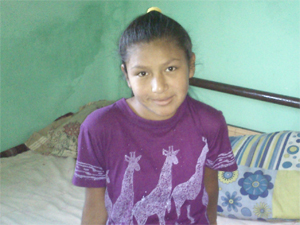 Gaby is a fifth grade student who lives with her parents, Justina and Cesar, in Cochabamba, Bolivia. Cesar spends long days in the Calatayud market unloading and carrying heavy loads of produce, for which he earns roughly $1,850 Bolivianos or $270 dollars a month. That is just enough to pay for food and the rent and utilities for two rooms in a home shared with other tenants, with whom the family negotiates the use of a common bathroom and patio space in which to cook on an improvised stove.
Gaby suffered from chronic chest pain and shortness of breath, which often kept her home from school and prohibited her from participating in physical activities, a situation that left her feeling dejected and depressed. It was especially difficult for her parents to give her the attention she needed due to the fact that her older sister was severely disabled by cerebral palsy, which led to her death in 2011.
After a long struggle to identify the cause of her ailments, Gaby was finally evaluated in mid-2012 by Dr. Irma Pacheco at the Viedma Hospital in Cochabamba. An echocardiogram and other tests revealed a congenital acyanotic heart defect, or left to right heart shunt. She presented some mitral and tricuspid valve insufficiency, and her left side heart chambers were suffering from excess volume caused by her condition.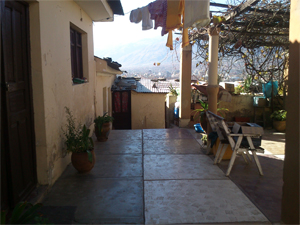 The news that Gaby needed surgery to survive to adulthood was almost too much to bear for Cesar and Justina. Unable to pay for the surgery, they were referred to Solidarity Bridge's partner organization in Cochabamba, PuenteSol, where Justina shared the following with our Social Worker:
We are poor, and my two little daughters were born sick. We lost my oldest last year, and now my dear Gabriela needs surgery. If she doesn't get it, she is suddenly going to die like her sister. We have gone to the Viedma Hospital because it's cheaper. We have to get in line at 5 am, and sometimes we still don't get a number or the doctors can't see us because they're pulled away for emergencies. We have to go back again and again, which is why it took us so long to get her checked by a specialist. I plead with God every day for someone to help my daughter get her surgery and get better. We don't want to lose her too.
A few days before Christmas 2012, Gabriela received her corrective surgery, through which high-tech mesh was used to patch the hole between her heart chambers. Her condition remains good. Gabriela hopes to soon be able to catch up with her classmates on the playground, and she and her parents are grateful for the promise of a new future this surgery represents for them. This surgery was made possible through the financial support of Dharma Trading Co.