Cielo Auca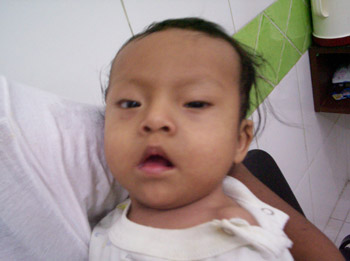 The Auca-Vizalla family of Santa Cruz, Bolivia, thought their family was complete, with eight children between the ages of 24 and 9. The family lives in a tiny, overcrowded home consisting of two bedrooms, a small common space, and an unfinished bathroom.
But in 2013, Isabella, age 43, was surprised with another pregnancy. Then, around the time Isabella entered her third trimester, her husband Antonio, 44, was diagnosed with a brain tumor. Fortunately, a Solidarity Bridge Neurosurgery Mission Trip team was arriving at the San Juan de Dios Hospital in Santa Cruz. Antonio underwent brain surgery on September 28, 2013, performed by neurosurgeons Dr. Richard Moser of the University of Massachusetts Medical School, and Bolivian partner Dr. Walter Rueda. One week after Antonio's surgery, the couple's ninth child was born. They named her Cielo, which in Spanish means "sky," or "heaven."
Doctors informed Isabella that her newest daughter has Down syndrome, but gave her no indications regarding possible related complications. Isabella noted that Cielo cried very little and spent most of her first months sleeping. She also noticed that the baby's breathing was sometimes accelerated, but she assumed everything was normal. However, when Cielo stopped breathing one day when she was around five months old, they rushed her to the municipal hospital. They quickly referred the baby to the higher-level Hospital Japonés in downtown Santa Cruz, where specialists detected a heart murmur and prescribed medical treatment. Cielo was stable for the next three months, until she was hospitalized again, this time in the public Children's Hospital, where she stayed for the full month of July 2014. After only a few weeks back home, Cielo was readmitted with pneumonia and severe malnutrition complicating her heart ailments. A young pediatric cardiologist, Dr. Virna Severiche, had just joined the staff of the Children's Hospital after several years completing her specialty in Sao Paulo, Brazil. Dr. Virna determined that Cielo suffered from a significant ventricular septal defect (VSD). Surgery was needed to patch the defective heart wall with implantable mesh.
Antonio and Isabella again turned to Solidarity Bridge. The Santa Cruz office of Puente de Solidaridad even helped arrange for the family to travel to Cochabamba, where Cielo underwent surgery at Clínica Belga on October 8th.
The hope is that babies in and around the city of Santa Cruz will soon be able to receive their surgeries at the city's Children's Hospital, through a new collaborative effort now in development to open the first Pediatric Cardiac Surgical Unit in a public hospital in Bolivia. This effort, which enjoys significant backing by Isaac and Rene Goff of Dharma Trading Company, will make it possible for many, many more babies and children to be properly diagnosed and treated in Santa Cruz.
Thank you, Isaac and Rene!